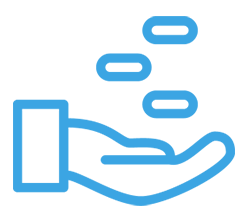 FINANCIAL OPTIONS
Today's businesses are faced with finding ways to innovate their technology infrastructure while being mindful of capital expenditure. Remaining modern and agile while achieving year-over-year cost savings can be a challenge for small businesses and enterprises alike.
As more companies look to virtualize their storage and computing environments, IT solutions need to meet their needs without creating financial burdens. From contract and licensing negotiations to manageable payment plans with options to amortize solution costs, Emgence has the expertise and flexibility to help.
The Emgence Method
Financing technology initiatives doesn't have to mean significant up-front capital investments. At Emgence, we find ways to limit the initial impact of your new technology solutions on your business's bottom line.
Pay for what you need and nothing more. Why pay static licensing costs that your employees may not be fully utilizing? At Emgence, we help you determine your baseline needs and line up your contract renewals to match.
With a customized approach to solution building and funding, our proactive approach helps get you what you need to be competitive today, while still looking out for what you'll need tomorrow as a growing organization.
Lifetime Payment Option
By determining the total cost of ownership (TCO) for your unique IT solutions, we can save you time and money down the road by anticipating your needs early on. Learn more about our expert consulting approach that can save your business thousands over time.
Usage-Based Funding
Especially useful for cloud hosting environments, Emgence will help you pay only for what you actually use, in real-time. This nimble approach to short or long-term funding allows you to eliminate waste spend for extraneous services, time, or data.
Contract-Based Funding
Cut your upfront payments out completely by tying your software, solution, and maintenance investments to your licensing and contract periods. When your renewals come up, we help you evaluate actual usage and consumption to avoid overpaying and even streamline processes.
Proactive Transitional Funding
Mitigate additional costs and unforeseen disruption associated with labor and migration of new solutions by building these items into your monthly retainer. By anticipating upcoming projects, we help our customers stay ahead of future implementations by accounting for necessary transition costs within your current model.
Lease-to-Own
Helping companies determine lifecycle and actual consumption of physical and virtual technology assets is our specialty here at Emgence. Setting parameters and low monthly payments for new solutions allows businesses to retain more capital, while still providing the flexibility to purchase in full at a later date.
LEARN HOW WE CAN HELP YOU TODAY